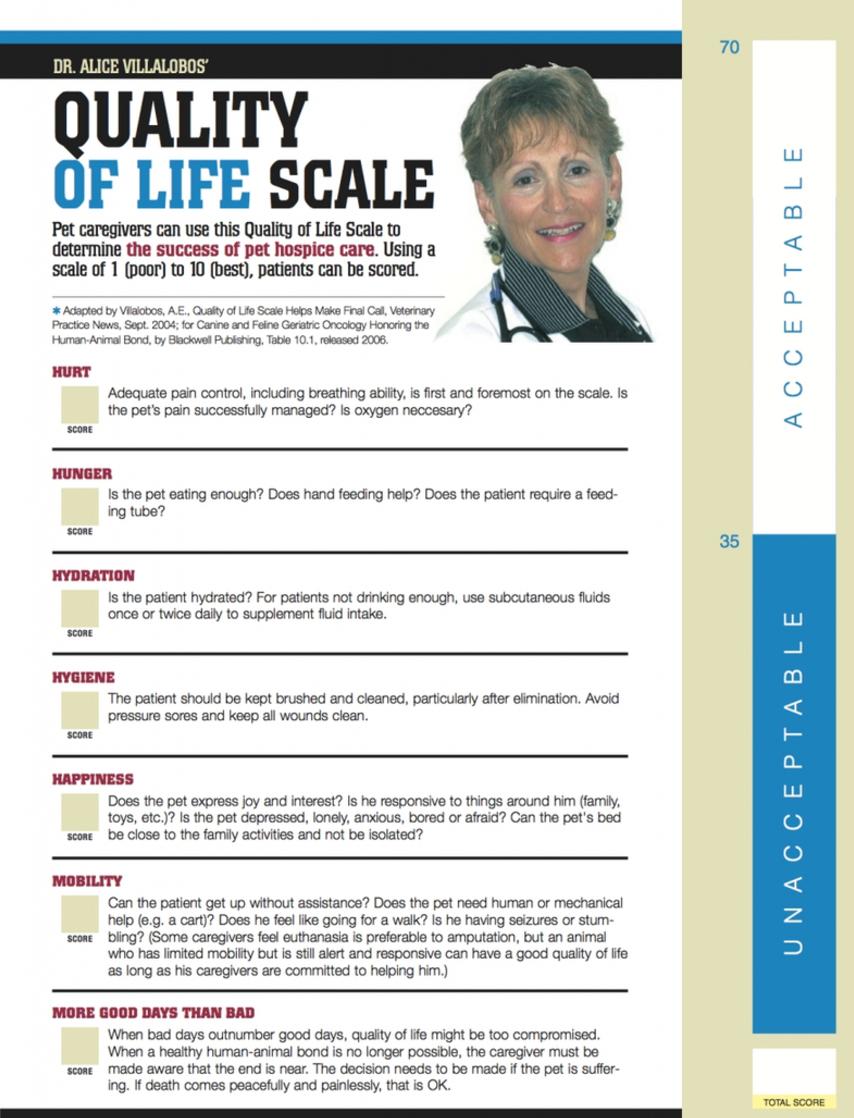 ​​​
​
Why Home Euthanasia?


Sometimes, a pet's quality of life reaches the point where you may need to consider at-home pet euthanasia services. Understanding that this is not an easy decision to make, Fur De Lis Mobile Veterinary Services will assure your pet a peaceful, comfortable, dignified passing in the safety and quiet of your own home. There are a variety of reasons that pet owners may elect in-home euthanasia for their pet. For pets that do not enjoy traveling to a Veterinary clinic, or for others that have mobility issues, an in-home euthanasia helps to make a very difficult situation much less uncomfortable for both you and your pet.
​
Deciding When It's Time


​The best assessment of whether your pet may or may not be suffering is to consider his/her quality of life. Because this can be difficult to quantify over time based on memory alone, it is a good idea to keep a log of your pet's daily routine (food intake, water intake, eliminations, mobility/activity, pain levels, etc.) to be able to get the "big picture" of how well your pet is doing over time. There is also an excellent resource that may help you to quantify your pet's quality of life called the Quality of Life Scale, pictured below.

*The following Quality of Life Scale was adapted by Villalobos, A.E., Quality of Life Scale Helps Make Final Call, VPN, 09/2004,for Canine and Feline Geriatric Oncology Honoring the Human-Animal Bond, by Blackwell Publishing, Table 10.1, released 2006.

The Process


​The process of the euthanasia is quite simple and very peaceful. It can take place inside your home, outdoors in the backyard, or even in your pet's favorite place (such as under a tree in your pet's favorite park). You get to decide such details that will put you and your pet at ease. Because it's of utmost importance that your pet feel safe and calm during the process, a pre-euthanasia sedative injection will always be given first. If your pet is still eating, then it's nice to distract him/her with tasty treats or previously "forbidden" food items (such as steak, chocolate, cake, cookies, etc) during this quick injection. As your pet begins to relax from the sedative, you may choose to sit with, hold, or snuggle beside them. Do what makes you and your pet feel the most comfortable. After your pet is relaxed by the sedative, and when you are ready, the euthanasia injection is then given (usually in a vein). You will be given all the private time you may need following the euthanasia to remain with your pet to say goodbye. After the euthanasia, Dr. Ashley will be able to transport your pet for cremation (if desired), or you may choose to keep your pet for home burial. There is an excellent pet crematorium in New Orleans called Heaven's Pets (www.heavenspets.com). If cremation is sought for your pet, you can fill out a pre-planning form at the Heaven's Pets website in advance, or contact them via phone to make advance arrangements at (504) 482-7387.

​
​
The Cost
​

​All the home euthanasia packages include the housecall, pre-euthanasia sedation, euthanasia, and aftercare transport of your pet to the crematorium of your choice (if desired). The price listing is as follows:



​-Home Euthanasia Package (Canine, up to 100 lbs): $225 for existing client / $250 for first time client



​-Home Euthanasia Package (Canine, >100 lbs): $325 for existing client / $350 for first time client



​-Home Euthanasia Package (Feline): $175 for existing client / $200 for first time client

Scheduling
There is a very busy existing client pet caseload for wellness services that are scheduled in advance, sometimes even as far out as 2-3 weeks in advance. For that reason- same day, next day, and even same week appointments for first time client pet home euthanasia is NOT guaranteed and normally NOT available. It is strongly recommended that you plan ahead for your pet's final arrangements by at least 7-14 days, so that you can make sure to provide the calm and peaceful passing they deserve at home. Appointments are not scheduled after hours or on weekends.